1) Reed & Barton Sea Shells 40-Piece Flatware Set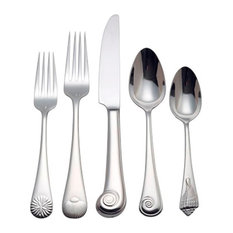 BUY NOW
Reed & Barton Seashell features the allure and serene beauty of the ocean that is artfully captured in this striking flatware pattern. Each piece of Sea Shell depicts a different shell pattern, bringing drama and intrigue to any table setting.
2) Reed & Barton Gloucester Shell 5-Piece Flatware Set, Set of 8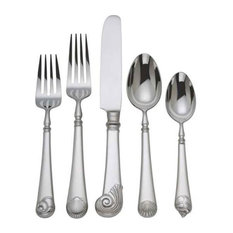 BUY NOW
Reed & Barton Gloucester Shell artfully captures the beauty and allure of the sea with its fine stainless flatware pattern from Williamsburg by Reed & Barton. Each piece is intricately detailed and meticulously crafted in the USA and features a different shell design on each handle.
3) Mono Children's Petite Flatware Set With Cutting Board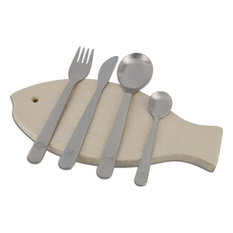 BUY NOW
Mono's Children's Petite Flatware Set with cutting board comes with two spoons, one knife, and one fork. The knife has a dull edge so your child can learn to use it with the fork without you needing to worry about safety. The perfect set for any child that wants to eat like the adults.
4) Reed & Barton Royal Shell 5-Piece Place Setting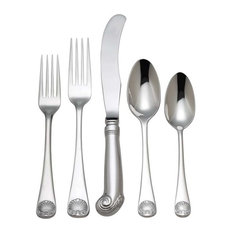 BUY NOW
Reed & Barton Royal Shell brings the classic shell motif to the table in ultimate style and grace. Royal Shell is made of 18/10 stainless steel, this handsome pattern features a hollow-handle knife design.
5) Galleyware Blue Anchor Flatware, 20-Piece Set With Storage Tray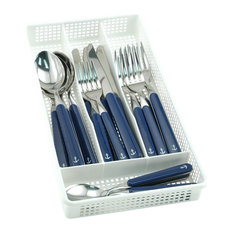 BUY NOW
Galleyware Anchor Flatware adds a nice nautical touch to dining on your boat or at your beach cottage.
6) Marina Dinner 5 Piece Set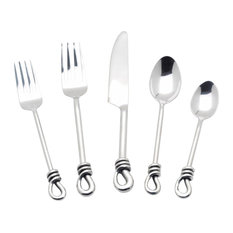 BUY NOW
Drop anchor with the Marina Collection by William Sheppee. The collection features a full range of beautiful designs, forged by hand to resemble anchor hitch knots, and inspired by adventures on the water. A perfect compliment to the boathouse or galley, and an ideal choice for casual dining and entertainment.