1) Mad for Plaid Geometric Print Placemat, Set of 4, Blue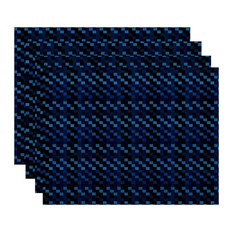 BUY NOW
Charm your guests with simple, yet elegant placemats! E by Design's fashionable placemats come in a set of four and are ideal for any occasion. With an abundance of designs to choose from, you'll always be prepared with impeccable table decor!
2) Pronto Rectangle Vinyl Placemats, Bluebell, Set of 4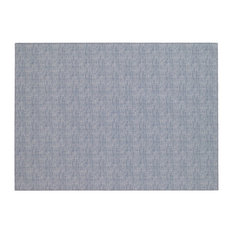 BUY NOW
Bodrum Linens is known for stylish and affordable luxury table linens and accessories. Since 1994, Bodrum Linens has supplied selected retailers with premier quality Turkish linens, offering exceptional value. Their fabrics are woven on state-of-the-art looms and dyed or printed using only the highest quality materials.
3) Pressed Sea Lace Table Mat, 13.9″x17.75″, Brass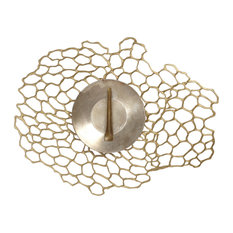 BUY NOW
Colonies of great star coral-easy to spot on almost every Caribbean reef-inspired the softened honeycomb structure of Sea Lace. Juxtaposing organic forms with metallic hues, this openwork placemat floats between round and oval. It can also function as a charger, acting as a decorative base for whatever is placed on top.
4) Skate Square Vinyl Placemats, Pearl, Set of 4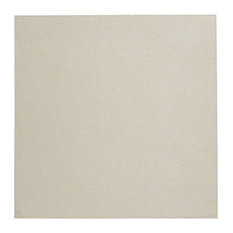 BUY NOW
Sturdier than Bodrum's other Mat groups, made with a shagreen finish and 16″ as opposed to 15″ rounds, the Skate collection is definitely Bodrum's most lux Easy Care Mat group. Decorate your table with this collection and you are set to impress! Great selection of sophisticated colors and still easy to clean.
5) DII Variegated Natural Fringe Placemat, Set of 6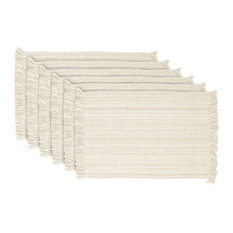 BUY NOW
The tonal variation of DII's variegated fringe placemats will add depth & richness to your table setting. The weaving of these placemats takes 4 different tints of one color and weaves them together for a tonal look. The weave is secured at each end with knots and fringe. Because these placemats are so popular, DII is releasing new colors constantly.
6) Bordino Octagon Vinyl Placemats, Periwinkle, Set of 4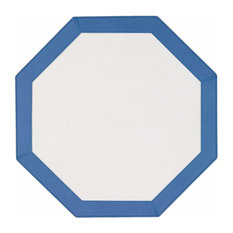 BUY NOW
Fun, festive, and versatile, the Bordino collection is great for any table setting. One side has a contrasting colored border and the other side is a solid color matching the border. 2 mats in one! And clean up is easy with just a wipe from a damp cloth.
7) Gray Hemstitch Placemat Set/4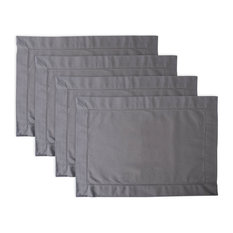 BUY NOW
DII 100% Cotton 12×18″ Hemstitch Placemats are the perfect placemats for your next holiday, party, dinner, or event. Coordinate with the matching DII Hemstitch napkins and table runners for a complete look. This makes it simple to create a perfectly coordinated table setting. Together they make the perfect set to dress up your table for all sorts of occasions, from casual buffets to formal dinners. To minimize shrinkage, please follow care instructions.
8) Palazzina Fusain Placemat, Set of 4, 21″x15″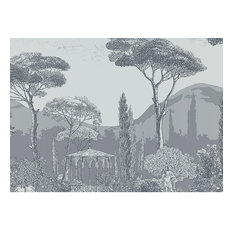 BUY NOW
SET of 4 Palazzina Fusain Placemat 21″x15″
With roots dating back to 1833 in France, Garnier-Thiebaut has become known as the designer and manufacturer of the highest quality table linens, bed linens, and accessories for the finest hotels, restaurants, casinos, clubs, and homes around the world.
9) Jelinek Cork Place Mats, Set of 6, Corkstone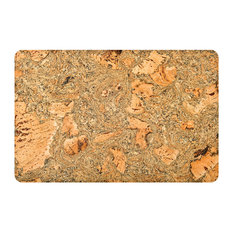 BUY NOW
Make the natural choice when it comes to protecting your dinner table with this elegant set of 6 placemats in Corkstone. Each placemat is made from water-resistant cork, which insulates against heat and sound, shielding your table from hot dishes and minimizing noise when plates and cutlery are set down.
10) 18″x14″ Florpalida, Floral Print Placemats, Set of 4, Red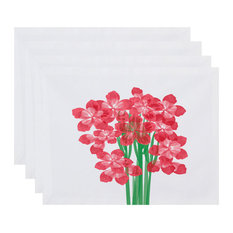 BUY NOW
Create a cool coastal environment in your home with a placemat set from E by Design! The Nantucket Collection was designed to bring the sophistication and beauty of the sea to your home decor. You'll love the feel of this collection and the summer warmth it will bring to your dining table.
11) Madeleine Floyd Woodland Corked Placemat, Set Of 4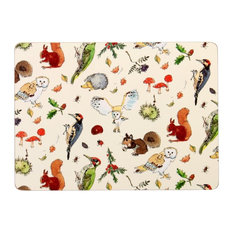 BUY NOW
Designed by the talented Madeleine Floyd, these Woodland placemats will add a touch of country to your kitchen. A pack of 4 placemats, size 29cm x 21cm depicting woodland illustrations protects your table from heat or food spills. Co-ordinates with the Woodland pack of 4 coasters and kitchen textiles. Simply wipe with a damp cloth to keep clean.
12) CounterArt Blue Hydrangeas Hardboard Placemat, Set of 2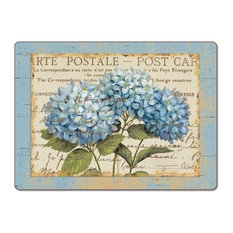 BUY NOW
These CounterArt hardboard placemats feature beautiful designs that will add style and elegance to your dining table. The table mats are produced with a 3/16 inch thick hardboard substrate that is finished with a soft cork backing with sealed, natural edges.
13) 18″x14″ Boho Splash, Geometric Print Placemat, Turquoise, Set of 4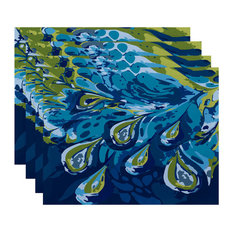 BUY NOW
This E by Design placemats adds simple style to your table. Suitable for everyday or special occasions. These Placemats make the perfect holiday, host, hostess gift! Set of 4.
14) Vinyl Plastic Placemats Reversible Multi-Colored Leaves Set of 4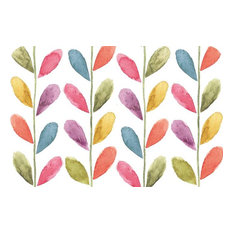 BUY NOW
You'll easily refresh your decor and beautify your table setting with these new artist-signature home fashion placemats by CounterArt. Their reversible, wipe-clean, 17.5 x 11.5-inch rectangle surface will protect your countertop and table surface from scratches and moisture, and reduce dinnerware noise, Use indoors or outdoors on picnics, patios or porch… and these make an exciting gift! This sale price is for a set of 4.
15) Foliage Corked Placemats, Set of 4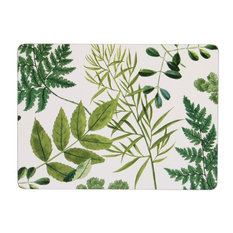 BUY NOW
A pack of 4 placemats, size 29cm x 21cm depicting various foliage illustrations taken from the RHS archive of designs. Protects your table from heat or food spills. Co-ordinates with the RHS Foliage pack of 4 coasters and kitchen textiles. Simply wipe with a damp cloth to keep clean.
16) Round Woven Placemats, Set of 6, Metallic Wine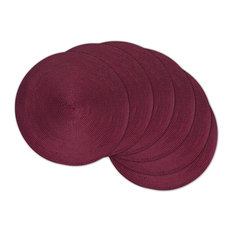 BUY NOW
Set of 6 round, braided placemats has a 14.75″ Diameter, shake briskly and wipe with a damp sponge for easy care.
17) 18″x14″ Pretty Little Flower Placemats, Set of 4, Pink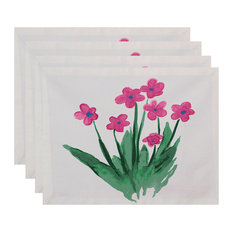 BUY NOW
Just as a farmers market brings quality products to consumers, our collection will bring fresh and quality designs to your home. Let E by Design's Farmer's Market placemat collection help you unearth a warm and inviting energy, sure to brighten your dining table decor.
18) Deco Placemat, Mist/Gold, Cork, 16″x12″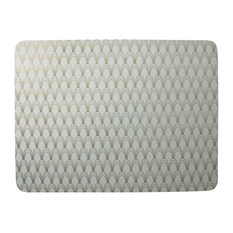 BUY NOW
Make a statement with our Placemats. Our Placemats are functional, on-trend, and also the perfect gift for any occasion.
19) Metallic Copper Pvc Basketweave Placemat Set of 6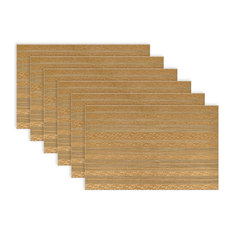 BUY NOW
DII's beautiful metallic basketweave placemats are perfect for dressing up your table for dinner parties, holidays, or everyday use. These metallic placemats are 13×18 and fit most table sizes. Our beautifully woven placemats give a contemporary look to any tabletop.
20) Leffler, Geometric Print Placemat, Navy Blue (Set of 4), 18 x 14″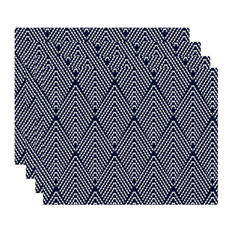 BUY NOW
Liven up your fall table decor with trendy designs from E by Design! The Goals, Gourds, and Gatherings collection contain an assortment of bold and refreshing designs ready to enhance any table! With styles like this, you'll be prepared for any occasion!