1. 4-Slice Extra Wide Slot Capacity Toaster, Stainless Steel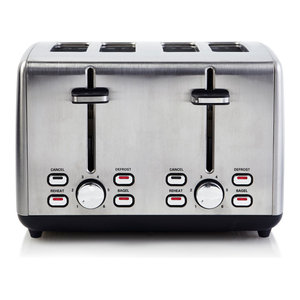 BUY NOW
Make breakfast for the whole family with this 4-slice extra-wide slot toaster capacity with independent controls on each side to toast to perfection. Great for the fluffiest bagels! Indicator light and slide-out crumb tray for easy cleanup and safety from burning crumbs. Adjustable browning dial will let you control the right amount for everyone's taste. Cancel, reheat, and defrost settings. Durable quality for apartments, college dorm rooms, office kitchens, or any home. ETL Listed, and 2 Year Limited Warranty.
2. Stainless Countertop Convection Oven
BUY NOW
Our new countertop convection oven offers full-size oven performance in compact, energy-efficient form. Stainless steel design compliments kitchen counter but practical for any meal or party preparation. It offers four operating functions: Bake, Broil, Toast, and Convection.
3. iTouchless 2-Slice See-Through Smart Toaster, Red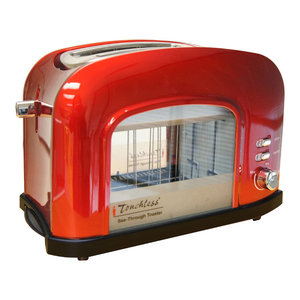 BUY NOW
This 2-slice See-Through Smart Toaster is equipped with double-insulated see-through glass windows allowing you to monitor the entire toasting process. Utilizing the Innovative Heat Scan technology, the toaster's unique automated self-elevating platform moves the bread up and down to create a consistently brown, crunchy, and crispy toast. Another feature of this see-through toaster is the adjustable temperature control knob that allows you to select your preferred shade of toast. A removable crumb tray is also included for easy and quick cleaning after every use.
4. Seren Toaster Front Panel, Silver/Chrome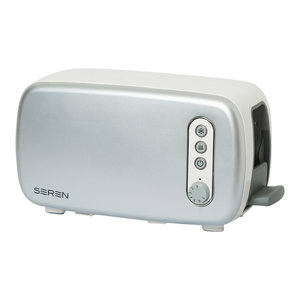 BUY NOW
Change the color of your Seren Toaster with this removable cover that doubles as a serving tray.
5. Donut Toaster – Make Up to 8 Fresh Homemade Donuts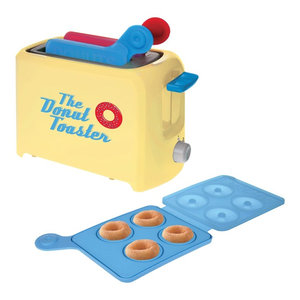 BUY NOW
Indulge your sweet-tooth with hot fresh, homemade donuts! Easy-to-use and easy to- clean silicone molds get popped in the toaster after the batter is poured. Makes up to 8-mini donuts at a time. Spend your Saturday mornings in the kitchen with the family. 5″x 9″ x 5″. GET YOUR SWEET TOOTH FIX – Enjoy every bite as you indulge in irresistible, homemade donuts with the whole family. USER-FRIENDLY DESIGN – Easy to use, easy to clean silicone molds can make up to 8 mini-donuts at a time.
PERFECT FOR ALL OCCASIONS – Whether for a party or a Monday morning breakfast, everyone will appreciate the fresh taste of homemade donuts.
6. Vision Toaster, Red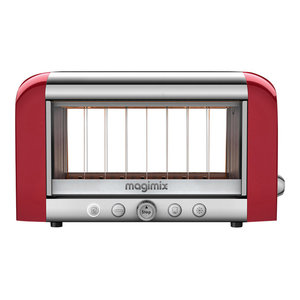 BUY NOW
The first see-through toaster with glass windows. Four preprogrammed settings: Toast both sides, Toast one side/bagel, Defrost, Warm-up; and 8 toasting levels. Stop button. Reheat button reheats without drying out the toast. Extra-wide slot accommodates 2 slices of bread, or the thickest bagels or baguettes. Long-life quartz elements provide faster browning leaving bread crisp on the outside yet still moist on the inside. Slide-out crumb tray and double insulated borosilicate glass windows make are made for cleaning and safe use. Cord storage. Wipe clean. No harsh detergent. 1500W. 3-Year Warranty.
7. Smeg 50's Retro Style Four Slice Toaster, Pastel Green
BUY NOW
Aesthetic, Powder-coated steel body, Polished chrome base, Stainless steel ball lever knob, Backlit chrome knob
8. Uniware 8711WH Two Slice Wide Slots Toaster, 750 Watts, Cool Touch Exterior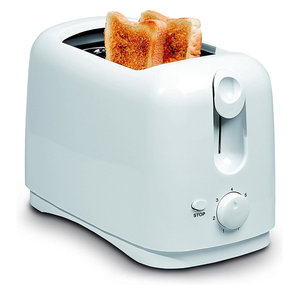 BUY NOW
Cool Touch Exterior, Hinged Crumb Tray For Cleaning, 2 Stainless Steel Wide Slots, Toasting Setting Knob, 750 Watts, Cord 0. 91 Meter.
9. Inox 4 Four-Slice Toaster With Wire Warming Basket Attachment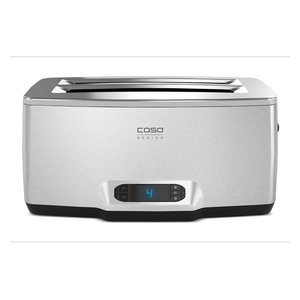 BUY NOW
CASO Design specializes in unique, innovative products that exceed expectations with German design and engineering. When it comes to toasters, Caso has thought of everything! The Inox 4 four-slice toaster has a tilted control panel with LED display to make choosing your settings easier than ever. Bread slots are long enough (10.25″) and wide enough (1.5″) to accommodate any type of bread or bagels. Plus, this toaster has a removable wire warming basket attachment for convenient heating of croissants, muffins, and rolls.
10. KitchenAid KMT4203FP Pro-Line Frosted Pearl White 4-Slice Automatic Toaster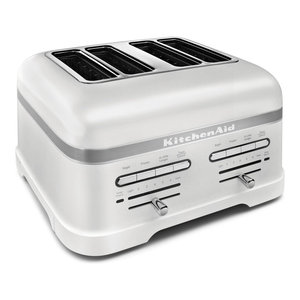 BUY NOW
The KitchenAid Pro Line Series four-slice automatic toaster is equipped with a host of smart features for effortless toasting. The automatic Keep Warm function keeps toast warm for up to three minutes after toasting. Automatic lift and lower automatically lowers bread into the self-centering racks upon sensing bread in a slot, then lifts bread as soon as it has reached the selected shade. Seven shade settings allow you to choose precisely how light or dark you want your toast. Bagel and frozen functions make it easy to toast bagels or defrost. Backed by a manufacturers five-year limited warranty, this professional four-slice toaster is sure to guarantee satisfaction.
11. 2-Slice Extra Wide Slot Toaster, Stainless Steel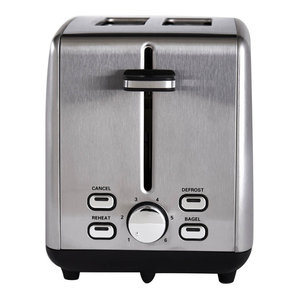 BUY NOW
Sleek and stylish 2-slice extra-wide capacity toaster in stainless steel for the professional kitchen. Extra-wide slots, self-centering, and safety toast lift will handle the fluffiest bagel or thickest piece of bread. Adjustable browning dial will let you control the right amount for everyone's taste. Cancel, reheat, and defrost settings. Durable quality for apartments, college dorm rooms, office kitchens, or any home. ETL Listed, and 2 Year Limited Warranty.
12. Breville Bta630Xl Lift And Look Touch Toaster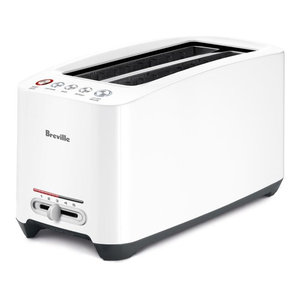 BUY NOW
Real-world 1-touch innovations including 'Lift & Look'® and 'A Bit More'™ put total browning control at your fingertips.
13. SPT 2-Slot Stainless Steel Toaster SO-337T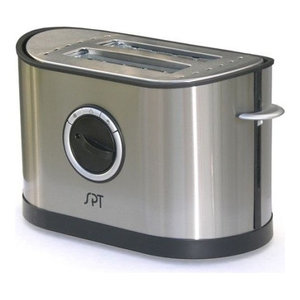 BUY NOW
Enjoy delicious, toasted bread anytime with this stylish and functional toaster. There are 7 browning levels to provide toast for every taste. With the extra-wide slots, you can toast anything from regular sliced bread to bagels and English muffins. The high lift feature raises bread an additional 0.75 inches so specialty breads can be easily removed without tear or jam in the slots. It also features defrost and reheat mode, as well as a cancel button and a slide-out crumb tray.
14. 2-In-1 Sandwich Toaster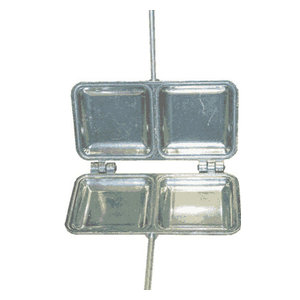 BUY NOW
Makes two sandwiches at one time! This aluminum toaster is double hinged and has extra crimping on the inside to hold in all the delicious ingredients.
15. 6 Quart Air Fryer Oven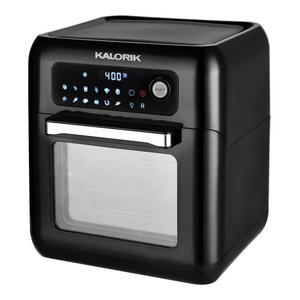 Wattage: 1500W. Voltage: 120 V. Capacity: 6 Qt. All-in-one air fryer and oven. Rapid hot air technology cooks food quickly and evenly, up to 30% faster. Multi-functional and versatile – bakes, grills, broils, toasts, roasts and fries with little to no added oil. 13 smart preset options: steak, ribs, chicken wings, chicken thighs, fish, shrimp, fries, pizza, vegetables, corn on the cob, cupcakes, toast, and reheat. 6-quart air-fry capacity for family size meals. Digital temperature control up to 400°F, and timer up to 60 minutes.